20 Sep

Brighten Up with HydroPeptide 5x Power Peels!

HydroPeptide 5X Power Peel is a fantastic home care peel for those looking for a gentle exfoliation. 5X Power Peel is designed for all skin types and great for travel and daily use.

The 5x Power Peel pads resurface, clarify, brighten and smooth away the appearance of wrinkles.

They also:
Help to reduce the appearance of fine lines and wrinkles
Promote healthy cell renewal
Help promote healthy collagen
Enhance treatment delivery
Improve skin radiance and clarity
On-the-Go
The small, individual packets are perfect for taking on-the-go. Throw them into gym bags for a convenient way to freshen up and prevent breakouts after a sweaty workout – for you or your teens! They're also great when traveling and need to slim down your cosmetic bag, but don't want to compromise your skin-care regimen.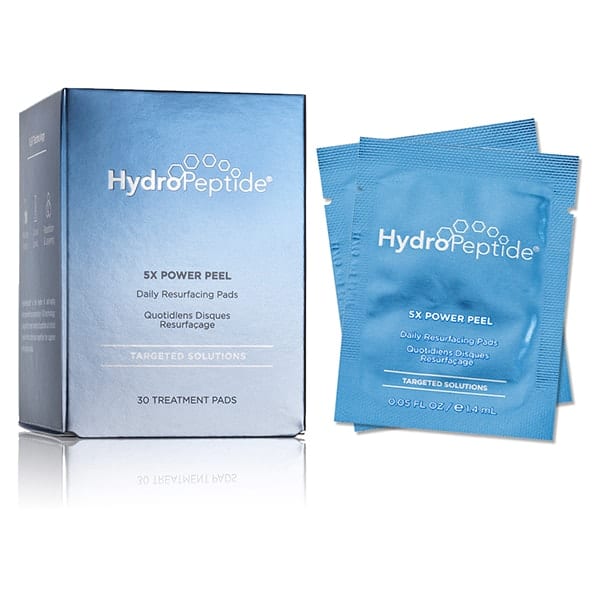 Easy to Use
The exfoliant blend is comprised of 6% glycolic, lactic, salicylic, an exfoliating peptide and mushroom enzymes. Each wipe is sufficiently saturated allowing for application to face, neck, hands and any other area needing special attention.
They're simple to use: just apply the pre-soaked peel towelette to clean, dry skin. Gently move over your face and neck while avoiding the eye area. No need to rinse off! Make sure to follow with moisturizer and SPF as needed. It's best to start using these 3 times per week and building up to every day use.
Ingredient Overview
The 5x Power Peel pads are cruelty free and clear of parabens, phthalates, sulfates and gluten.
Here is a short overview of some of the most important active ingredients and their purpose:
Glycolic Acid exfoliates helping to reduce the appearance of fine lines and wrinkles, pigmentation and reduce appearance of pores.
Lactic Acid moisturizes, exfoliates and offers antibacterial properties.
Salicylic Acid exfoliates with anti-inflammatory, antimicrobial and antiseptic properties. Treats the appearance of dry damaged skin, reduces dry patches and restores suppleness. Removes dead skin cells and excess oil built up in the pores.
Exfoliating Peptide gently increases skin cell turnover, reducing depth of wrinkles.
Mushroom Enzyme gently encourages irritation-free skin renewal. Improves skin smoothness, clarity, brightness and hydration.
Retinoic-Like Peptide  has shown to visibly reduce appearance of wrinkles with an anti-inflammatory effect.
Anti-Redness Peptide alleviates facial redness and prevents inflammation, creating a brighter and even toned appearance.
Niacinamide improves moisture, promotes even tone and reduces the appearance of acne and pigmentation.
Aloe and Hyaluronic Acid moisturize and hydrate while assisting in skin clarity. By hydrating the skin these ingredients improves nutrient absorption.
Pricing
Find this great product at Bella Vita – 30 pads for $68.
Although these 5x Power Peel pads are a great way to exfoliate, they aren't right for everyone. Not all skin types will react well to the acids, and we suggest that nursing or pregnant women and those with an aspirin allergy not use them. But don't worry – contact us and we will help you find alternative exfoliation products that better fit your needs!
Stop in a pick up a box for yourself!